GlobalRPh Medical Terminology Section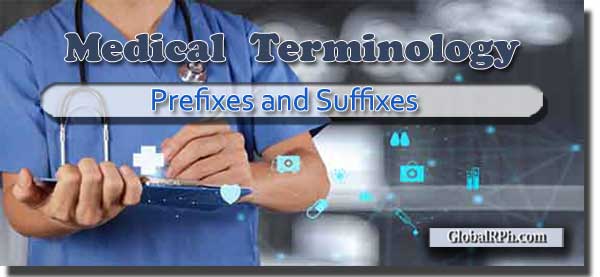 Prefixes Denoting Position and/or Direction 
---
ab-
From, away from.
abduct (to move away from the midline of the body)
ad-
Toward, increase.
adduct (movement toward the midline of the body)
ambi-
Both, both sides.
ambidextrous (able to use both hands well)
ante–
Before, in front.
antecubital ("the space" in front of the elbow)
circum-
Around.
circumoral (around the mouth)
de-
Down, from
descend (to come down from)
dia-
Through.
diagnosis (knowledge through testing)
ecto-
Outside
ectopic (outside of its normal location)
endo-
Within
endocervical (pertaining to the inner lining of the cervix)
epi-
Upon, over
epigastric (upon the stomach)
ex-
Out, away from, outside
extract (to remove a tooth from [away from] the oral cavity)
exo-
Outside, outward
exogenous (originating outside the body)
extra-
Outside, beyond
extrahepatic (outside of the liver)
hypo-
Under, below, beneath, less than normal
hypoglossal (under the tongue)
 in-
In, inside, within, not
intubate (to insert a tube inside [into] an organ or body cavity)
infra-
Beneath, below, under
infrapatellar (below the knee)
inter-
Between
intercostal (between the ribs)
intra-
Within
intravenous (within a vein)
juxta-
Near, beside
juxtaarticular (pertaining to a location near a joint)
meso-
Middle
mesoderm (the middle of the three layers of the skin)
para-
Near, beside, beyond, two like parts
paracervical (near, or beside, the cervix)
peri-
Around
perianal (around the anus)
pre-
Before, in front
precordial (the region "of the chest wall" in front of the heart)
pro-
In front, before
prognosis (knowledge before)
re-
Back, again
reactivate (to make active again)
retro-
Backward, behind
retroflexion (an abnormal position of an organ in which the organ is tilted backward)
sub-
Under, below
sublingual (under the tongue)
supra-
Above, over
suprapubic (above, or over, the pubic area)
trans-
Across, through
transurethral (across, or through, the urethra)
Increasing your understanding of medical terminology
Word Building Reference– This resource strengthens your understanding of medical terminology. See how common medical terms are created using the various prefixes, suffixes, and root words.
---
Medical Terminology Intuitive Section


This section was developed for 'speed learning' of medical terminology.
---
Additional references:
Prefixes denoting numbers
Prefixes denoting position and/or direction
Prefixes denoting measurement
Medical Terminology Noun Suffixes
Combining forms for color
Common Prefixes
Adjective Suffixes
Specialties and specialists med terms
Instruments, surgical, and diagnostic procedures
Negative prefixes
Common suffixes
---
Quick Introduction– provides an overview and introduction to medical terminology.
Medical Terms – rules governing singular versus plural versions of medical terms are described.