GlobalRPh.com  –  Privacy Policy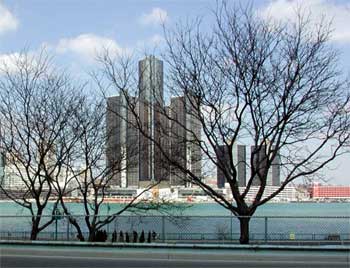 Image ©GlobalRPh, All rights reserved.   Detroit waterfront 
At GlobalRPh Inc, ensuring the privacy of our Web site visitors is an important concern. We will not collect any personal information about our Web site visitors unless it is submitted voluntarily, in which case we will act in a responsible manner to protect your personal information.
We are committed to keeping email addresses confidential; we will not sell, rent or lease our mailing lists to third parties, and we will not provide your personal information to any third party individuals or companies without your permission.
Site registration system:  [

New: June 2017

]:  GlobalRPh Inc is now participating in the DMD HEALTHCARE COMMUNICATIONS NETWORKTM as part of our newly created registration/login process.  BY SUBMITTING REGISTRATION OR LOGIN INFORMATION, YOU AGREE THAT YOU HAVE READ, UNDERSTAND, AND AGREE TO BE BOUND BY THE PRIVACY STATEMENT LOCATED HERE:  https://usersupport.dmdconnects.com/PrivacyPolicy.htm
Server Logs & IP Addresses – GlobalRPh does keep track of server logs in order to perform internal statistical analyses. These logs do not contain personal information such as name or email address. The logs are used to analyze what areas of our Web site are most popular, in an effort to better serve our Web site visitors.   [Primary analysis tool:  Currently we are using Google Analytics to analyze the audience of the website and improve our content. No personal information is collected from Google Analytics. ]Links – This web site may contain links to other sites. We are not responsible for the privacy practices of other sites. Read the privacy statements of each web site that collects identifiable information.

Product Registration (Including free downloads)  –  Information submitted here is used for statistical analysis and internal operations as well as to update our subscriber lists.  The information submitted, whether it is a purchase, a download of a demo product, or simply providing information for a free download, remains confidential and is for our records only. We keep this information so that we can notify customers of product upgrades, announcements, and new releases.

Cookies –  "Cookies" are pieces of information that are placed on an User's computer hard drive to enable the User to more easily communicate and interact with the Site. We use cookies to customize your experience on the Site.   We will not use cookies to store individually identifiable information about a User. Most Internet browsers include preference settings that allow Users to be notified when, and control whether, cookies are transferred to their computers. Users may disallow receiving cookies at any time through their Web browser, though such action may compromise the ability to use certain features available on the Site. It is not our intention to use cookies to retrieve information that is unrelated to our Site or your interaction with our Site.

Usage Data – Usage Data includes general information about how you interact with web pages on the Site. This is collected using Cookies (or similar technologies) placed by us and others. Usage Data includes:
Pages you visited on our web sites
How you came to the website (e.g. via our newsletter)
Which particular buttons or links on the site you clicked
Whether you have been to the site before
Google, as a third party vendor, uses cookies to serve ads on our site.
Google's use of the DART cookie enables it to serve ads to our  users based on their visit to our site and other sites on the Internet.
Users may opt out of the use of the DART cookie by visiting the Google ad and content network privacy policy.
We use third-party advertising companies to serve ads when you visit our website. These companies may use information (NOT including your name, address, email address, or telephone number) about your visits to this and other websites in order to provide advertisements about goods and services of interest to you. In particular, we use Usage Data for remarketing (sometimes called retargeting) to better target ads to interested users. Retargeting uses cookies to identify users who visit a website showing a particular brand of goods or services and then targets advertisements of that brand to that user on other websites.  If you would like more information about this practice and to know your choices about not having this information used by these companies, please visit the Network Advertising Initiative
Posting Information on or Through the Site –  You are solely responsible for the information and other content you post on or through the Site. You understand that personal and other information (e.g., user name, e-mail address, phone number) that you post on or through the Site ("Clinical forums", guest book, etc), is generally accessible to and may be collected and used by others and may result in unsolicited messages or other contact from others. Users of these forums are encouraged to exercise caution when providing personal information about themselves.  Please note that all information you may post on the GlobalRPh Forum is considered public information, and is subject to all the terms and conditions outlined in the GlobalRPh Forum statement.  If you would like to review and/or update the information that you have provided to the Site, please send an e-mail to [email protected] requesting such access or change.
Funding source(s) –  Our primary source of funding is our extensive advertising setup that includes Google's proprietary Adsense Advertising network.
Honesty in advertising & editorial policy:
Our website hosts Google sponsored ads and links. We do not control Google ads content
and our editorial content is free of any commercial influence.  Advertisement is distinguished by the word 'Advertisement'.
LiveRamp
When you use our site, Globalrph.com, we share information that we collect from you, such as your email (in hashed form), IP address or information about your browser or operating system, with our identity partners/service providers, including LiveRamp Inc. LiveRamp returns an online identification code that we may store in our first-party cookie for our use in online, in-app, and cross-channel advertising and it may be shared with advertising companies to enable interest-based and targeted advertising. To opt out of this use, please click here (https://optout.liveramp.com/opt_out)
UK and EU
When you browse through our websites or use our mobile applications and when you enter your email address on these (either to log in, or to sign up to a newsletter, or similar) we may share personal or other information that we collect from you, such as your email address (in hashed, pseudonymous form), IP address, your mobile advertising ID or information about your browser or operating system, with our partner LiveRamp, Inc. and its group companies, acting as joint controllers. LiveRamp uses this information to create an online identification code for the purpose of recognising you on your devices. This code does not contain any of your identifiable personal data and will not be used by LiveRamp to re-identify you. We place this code in our cookie or use a LiveRamp cookie and allow it to be used for online and cross-channel advertising. It may be shared with our advertising partners and other third-party advertising companies globally for the purpose of enabling interest-based content or targeted advertising throughout your online experience (e.g., web, email, connected devices, and in-app, etc). These third parties may in turn use this code to link demographic or interest-based information you have provided in your interactions with them. Detailed information on LiveRamp's data processing activities is available in LiveRamp's privacy policy and opt-out here: https://your-rights.liveramp.uk/home. You have the right to withdraw your consent or opt-out to the processing of your personal data at any time.

Your Acceptance of this Policy –   By using this Site, you signify your acceptance of our Privacy Policy. If you do not agree to this policy, please do not use our Site. GlobalRPh reserves the right, at our discretion, to change, modify, add, or remove portions from this policy at any time without notice, so Users are encouraged to review this policy from time to time. Your continued use of our Site following the posting of changes to these terms means you accept these changes.