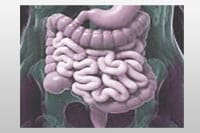 Diet and Irritable Bowel Syndrome (IBS)
According to the American College of Gastroenterology, only a few processes related to diet have been addressed in clinical trials such as intolerance and hypersensitivity. The findings so far have not been conclusive and provide limited guidance on how dietary changes could be used in the management of IBS. Key findings include.3

Responses to particular foods and interactions with elements of the diet have not typically undergone rigorous evaluation.
True food allergies are uncommon in IBS
Most food-related IBS symptoms appear to represent food intolerance, however few patients can accurately locate the specific food.
The quality of evidence regarding specialized diets such as 'gluten-free' in reducing symptoms of IBS is very low. Although some of these diets show promise, the precise role in the management of IBS is unknown.
The role of fiber in IBS
Dietary fiber can be classified as either soluble or insoluble. Soluble fiber dissolves in water and forms a gel. It is found in several vegetables, fruits, and cereals. Insoluble fiber does not not absorb or dissolve in water and passes through our intestines largely intact.

Key points related to fiber: 3,8
Fiber can provide overall symptom relief in IBS. [Recommendation: weak. Quality of evidence: moderate. ]
Soluble fibers such as psyllium (not insoluble fibers such as bran) seem to provide overall symptom relief.
Insoluble fibers are more likely to exacerbate IBS and may cause bloating and abdominal discomfort.
Metamucil dosing info:
Based on information from the Metamucil website. Accessed: July 2017. https://www.metawellness.com/en-us/about-our-products/metamucil-fiber-supplement © 2017 Procter & Gamble
Serving size amounts differ by version because the sweeteners and flavorings used in each Metamucil product vary in volume.
Note: 1 teaspoon (sugar-free powder) = 1 tablespoon (sugar version).
Is it OK to take Metamucil with food? Should I take it before or after meals?
Any time of day is appropriate to take Metamucil as long as an adequate intake of fluids (at least 8 ounces of water or liquid per serving) is consumed. We recommend taking Metamucil three times per day at mealtimes as a convenient way to get the benefits of Metamucil.
Bulk-forming fibers like psyllium husk, may affect how well medicines work. Take this product at least 2 hours before or after medicines.
Our powdered product must be mixed with liquids, not taken in its dry form. Capsules should be taken one at a time; we do not recommend dissolving them in water. Please take Metamucil with at least 8 ounces of liquid, as indicated.
Metamucil cannot be added to hot beverages. Rapid formation of gel.
New Users: Start with 1 serving per day; gradually increase to desired daily intake. You may initially experience changes in bowel habits or minor bloating, as your body adjusts to increased fiber intake.
Dosage: [sugar-free version]
For promoting and maintaining digestive health:
Adults 12 yrs. and over: One rounded teaspoon in 8 oz. of liquid up to 3 times daily for fiber supplementation. For occasional constipation and to help promote and maintain regularity. For children under 12, consult a doctor.
Note: 1 teaspoon (sugar-free powder) = 1 tablespoon (sugar version).
Supplement information
Sugar-free version
1 rounded teaspoon: [5.8 grams of psyllium husk]
Dietary fiber: 3 grams
Soluble fiber: 2 grams
2 rounded tsp: [11.6 grams of psyllium husk]
Dietary fiber: 6 grams
Soluble fiber: 5 grams
Sugar (sucrose) version
1 rounded tablespoon:
Dietary fiber: 3 grams
Soluble fiber: 2 grams
2 rounded tbsp:
Dietary fiber: 6 grams
Soluble fiber: 5 grams
References
Lovell RM , Ford AC . Global prevalence of, and risk factors for, irritable bowel syndrome: a meta-analysis . Clin Gastroenterol Hepatol 2012; 10 : 712 - 21 .
Quigley EM , Abdel-Hamid H , Barbara G et al. A global perspective on irritable bowel syndrome: a consensus statement of the World Gastroenterology Organisation Summit Task Force on Irritable Bowel Syndrome . J Clin Gastroenterol 2012 ; 46 : 356 - 66 .
Ford AC, et al. American College of Gastroenterology monograph on the management of irritable bowel syndrome and chronic idiopathic constipation Am J Gastroenterol 2014 109 Suppl 1 S2-S26. PubMed.
Chang, L., Lembo, A., and Sultan, S. American Gastroenterological Association technical review on the pharmacological management of irritable bowel syndrome. Gastroenterology. 2014; 147: 1149-1172.
Simren M, Palsson OS, Whitehead WE. Update on Rome IV Criteria for Colorectal Disorders: Implications for Clinical Practice. Curr Gastroenterol Rep. 2017; 19(4): 15. Published online 2017 Apr 3. doi: 10.1007/s11894-017-0554-0 PMCID: PMC5378729
Drossman DA. Functional Gastrointestinal Disorders: History, Pathophysiology, Clinical Features and Rome IV. Gastroenterology. 2016;150:1262-1279.
American Gastroenterological Association Institute Guideline on the Pharmacological Management of Irritable Bowel Syndrome. Accessed: July 2017. Available at:
http://www.gastro.org/guidelines/pharmacological-management-of-ibs
Zuckerman MJ. The role of fiber in the treatment of irritable bowel syndrome: therapeutic recommendations. J Clin Gastroenterol. 2006 Feb;40(2):104-8.
LINZESS(R) package insert. Allergan USA, Inc. Ironwood Pharmaceuticals, Inc. Irvine, CA 92612 Cambridge, MA, 02142. Revised: 1/2017. Accessed: July 2017.
Amitiza® (lubiprostone) package insert. Takeda Pharmaceuticals America, Inc. Deerfield, IL 60015. Revised: 9/2016. Accessed: July 2017.