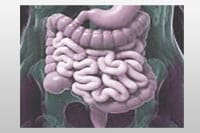 IBS and the role of Antispasmodics
Most of the data on the effectiveness of antispasmodics for the treatment of IBS was completed before the development of standardized diagnostic criteria (e.g. Rome criteria), making it difficult to evaluate the data. Empirically, antispasmodics have been used for years for the treatment if IBS in order to provide short-term relief.

Key points based on the findings from the American College of Gastroenterology:3
Adverse effects are common. Use is limited by anticholinergic adverse events.
Place in therapy: Low quality of evidence available --> Recommendation: weak.
High variability in the effectiveness of the various agents available.
Antispasmodics have a statistically significant effect in improving symptoms of IBS, however, the data does not strongly support a particular agent (highly variable).
Findings from the American Gastroenterological Association regarding Antisoasmodics:7
A meta-analysis of 22 RCTs showed significant improvement in IBS-related global symptoms.
Modest improvement in abdominal pain symptoms with minimal risk of important adverse effects.
Data was based on continuous use and not as needed use.
AGA suggestion: Use antispasmodics (over no drug treatment) in patients with IBS. (Conditional recommendation; Low-quality evidence) .
>> Loperamide, Antidepressants, Serotonergic agents, PEG laxatives
References
Lovell RM , Ford AC . Global prevalence of, and risk factors for, irritable bowel syndrome: a meta-analysis . Clin Gastroenterol Hepatol 2012; 10 : 712 - 21 .
Quigley EM , Abdel-Hamid H , Barbara G et al. A global perspective on irritable bowel syndrome: a consensus statement of the World Gastroenterology Organisation Summit Task Force on Irritable Bowel Syndrome . J Clin Gastroenterol 2012 ; 46 : 356 - 66 .
Ford AC, et al. American College of Gastroenterology monograph on the management of irritable bowel syndrome and chronic idiopathic constipation Am J Gastroenterol 2014 109 Suppl 1 S2-S26. PubMed.
Chang, L., Lembo, A., and Sultan, S. American Gastroenterological Association technical review on the pharmacological management of irritable bowel syndrome. Gastroenterology. 2014; 147: 1149-1172.
Simren M, Palsson OS, Whitehead WE. Update on Rome IV Criteria for Colorectal Disorders: Implications for Clinical Practice. Curr Gastroenterol Rep. 2017; 19(4): 15. Published online 2017 Apr 3. doi: 10.1007/s11894-017-0554-0 PMCID: PMC5378729
Drossman DA. Functional Gastrointestinal Disorders: History, Pathophysiology, Clinical Features and Rome IV. Gastroenterology. 2016;150:1262-1279.
American Gastroenterological Association Institute Guideline on the Pharmacological Management of Irritable Bowel Syndrome. Accessed: July 2017. Available at:
http://www.gastro.org/guidelines/pharmacological-management-of-ibs
Zuckerman MJ. The role of fiber in the treatment of irritable bowel syndrome: therapeutic recommendations. J Clin Gastroenterol. 2006 Feb;40(2):104-8.
LINZESS(R) package insert. Allergan USA, Inc. Ironwood Pharmaceuticals, Inc. Irvine, CA 92612 Cambridge, MA, 02142. Revised: 1/2017. Accessed: July 2017.
Amitiza® (lubiprostone) package insert. Takeda Pharmaceuticals America, Inc. Deerfield, IL 60015. Revised: 9/2016. Accessed: July 2017.