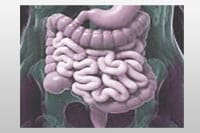 IBS - Prosecretory agents Linaclotide and Lubiprostone
Linaclotide: Linaclotide is structurally related to human guanylin and uroguanylin and functions as a guanylate cyclase-C (GC-C) agonist. In animal models, linaclotide has been shown to both accelerate GI transit and reduce intestinal pain.9

Findings from the American College of Gastroenterology:3
Linaclotide is superior to placebo for the treatment of constipation-predominant IBS. Recommendation: strong. Quality of evidence: high.
A statistically significant effect in favor of linaclotide compared with placebo was found in relation to abdominal pain
Findings from the American Gastroenterological Association regarding Antisoasmodics:7
The AGA recommends using linaclotide (over no drug treatment) in patients with IBS-C. (Strong recommendation; High-quality evidence)
The higher cost and the possibility of diarrhea may deter some patients.
Linaclotide - dosing information:9
Indicated in adults for the treatment of: irritable bowel syndrome with constipation (IBS-C) and chronic idiopathic constipation (CIC).
Recommended Dosage:
Irritable Bowel Syndrome with Constipation (IBS-C)
The recommended dosage of LINZESS is 290 mcg orally once daily.
Preparation and Administration Instructions:
Take LINZESS on an empty stomach, at least 30 minutes prior to the first meal of the day. If a dose is missed, skip the missed dose and take the next dose at the regular time. Do not take 2 doses at the same time. Do not crush or chew LINZESS capsule or capsule contents. Swallow LINZESS capsule whole.
For adult patients with swallowing difficulties, LINZESS capsules can be opened and administered orally in either applesauce or with water or administered with water via a nasogastric or gastrostomy tube. Sprinkling of LINZESS beads on other soft foods or in other liquids has not been tested.
---
Lubiprostone (Amitiza® ): a locally acting chloride channel activator that enhances a chloride-rich intestinal fluid secretion without altering sodium and potassium concentrations in the serum. Lubiprostone acts by specifically activating ClC-2, which is a normal constituent of the apical membrane of the human intestine, in a protein kinase A-independent fashion. By increasing intestinal fluid secretion, lubiprostone increases motility in the intestine, thereby facilitating the passage of stool and alleviating symptoms associated with chronic idiopathic constipation. 10
Findings from the American College of Gastroenterology:3
Lubiprostone is superior to placebo for the treatment of constipation-predominant IBS. Recommendation: strong. Quality of evidence: moderate.
Its exact role in the therapy of IBS is not known since it was evaluated in comparison with placebo rather than "standard therapy." Currently there is not a defined algorithm for the treatment of IBS.
Findings from the American Gastroenterological Association regarding Lubiprostone:7
Two RCTs of 12-week duration showed a small improvement in global symptoms of IBS with few adverse effects.
AGA suggests using lubiprostone (over no drug treatment) in patients with IBS-C. (Conditional recommendation; Moderate-quality evidence)
High cost may deter some patients.
Lubiprostone - dosing information:10
Indications:
Treatment of chronic idiopathic constipation in adults.
Treatment of opioid-induced constipation (OIC) in adults with chronic, non-cancer pain.
Treatment of irritable bowel syndrome with constipation in women >/= 18 years old.
Dosage: Irritable Bowel Syndrome with Constipation: 8 mcg twice daily.
Dosage in patients with hepatic impairment: For patients with severely impaired hepatic function (Child-Pugh Class C), the recommended starting dose is 8 mcg once daily. If this dose is tolerated and an adequate response has not been obtained after an appropriate interval, doses can then be escalated to full dosing with appropriate monitoring of patient response. Dosage adjustment is not required for patients with moderately impaired hepatic function (Child-Pugh Class B).
References
Lovell RM , Ford AC . Global prevalence of, and risk factors for, irritable bowel syndrome: a meta-analysis . Clin Gastroenterol Hepatol 2012; 10 : 712 - 21 .
Quigley EM , Abdel-Hamid H , Barbara G et al. A global perspective on irritable bowel syndrome: a consensus statement of the World Gastroenterology Organisation Summit Task Force on Irritable Bowel Syndrome . J Clin Gastroenterol 2012 ; 46 : 356 - 66 .
Ford AC, et al. American College of Gastroenterology monograph on the management of irritable bowel syndrome and chronic idiopathic constipation Am J Gastroenterol 2014 109 Suppl 1 S2-S26. PubMed.
Chang, L., Lembo, A., and Sultan, S. American Gastroenterological Association technical review on the pharmacological management of irritable bowel syndrome. Gastroenterology. 2014; 147: 1149-1172.
Simren M, Palsson OS, Whitehead WE. Update on Rome IV Criteria for Colorectal Disorders: Implications for Clinical Practice. Curr Gastroenterol Rep. 2017; 19(4): 15. Published online 2017 Apr 3. doi: 10.1007/s11894-017-0554-0 PMCID: PMC5378729
Drossman DA. Functional Gastrointestinal Disorders: History, Pathophysiology, Clinical Features and Rome IV. Gastroenterology. 2016;150:1262-1279.
American Gastroenterological Association Institute Guideline on the Pharmacological Management of Irritable Bowel Syndrome. Accessed: July 2017. Available at:
http://www.gastro.org/guidelines/pharmacological-management-of-ibs
Zuckerman MJ. The role of fiber in the treatment of irritable bowel syndrome: therapeutic recommendations. J Clin Gastroenterol. 2006 Feb;40(2):104-8.
LINZESS(R) package insert. Allergan USA, Inc. Ironwood Pharmaceuticals, Inc. Irvine, CA 92612 Cambridge, MA, 02142. Revised: 1/2017. Accessed: July 2017.
Amitiza® (lubiprostone) package insert. Takeda Pharmaceuticals America, Inc. Deerfield, IL 60015. Revised: 9/2016. Accessed: July 2017.