Patient Education
This article is tailored for patients. Refer your patients to this article for them to learn more about their condition.
Article by Natalia Kolkowska
How Can Healthcare Professionals Manage the Risks of Virtual Care?
Virtual care has certainly come as a great help. Though some solutions were available before, recent travel restrictions have forced most healthcare providers to start offering virtual consultations and advice. It had allowed not only to reduce the risks of infections but also to reach people who even before had trouble going to the doctor, either because of the physical di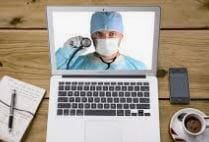 stance or their health.
However, the lack of eye-to-eye contact comes with potential risks as well. While by no means we recommend turning away from virtual care, we would like to make doctors, nurses, and other professionals more aware of issues that might arise and things they should pay more careful attention to.
Below, you will find a short guide on how healthcare professionals can manage the risks of virtual care. The solutions range from the use of helpful technology, education, and transparency to establishing guidelines and boundaries, as well as taking care of privacy risks and data security.
Stay Educated and Benefit From New Technologies
First things first, make sure you are keeping yourself up to date on the latest developments in the area of virtual care. To do this, it is crucial to get familiar with both the opportunities and the challenges that come with it.
Whether you are a doctor who has started offering virtual consultations or a nurse who needs to learn more about interacting with people outside of the clinic, you need to keep yourself educated on this relatively new technology. The latest success of Visby Medical test kits only confirms the statement that keeping up with the emerging healthcare trends and advancements is key to the successful implementation of new technology.
You might find it helpful to read articles on medical technology news websites or listen to podcasts. Alternatively, you can attend various conferences and seminars. There are plenty of events held for healthcare professionals around the globe, so check out the website of your local medical association to see if there are any upcoming events relevant to you. If there are not, don't hesitate to contact the organizers of other healthcare events to ask them whether they are willing to host a virtual care event in the near future.
Take Care of Privacy Risks and Data Security
Of course, the main reason why healthcare professionals are turning to virtual care is because of their patients. And while having a virtual conversation is undoubtedly better than nothing, the issue is that it also involves data security risks. For example, if you are using a video chat or similar live communication software for consultations, you need to ensure that the connection is secure.
What's more, you should pay attention to data security as well. It doesn't matter whether you are working offline or online because simply speaking about data security means knowing how to protect confidential data from various sources – both within and outside your practice.
It goes without saying that medical software must be safe and secure – and that's why it should be developed by expert programmers who know how to avoid malware attacks. Even if the software does not have any known vulnerabilities, you still need to ensure that it meets all of your security standards.
It's also good practice to use encrypted communication channels. At the very least, the communication between the doctor and the patient should be encrypted with a strong encryption algorithm. However, some system elements, such as the software itself, may be vulnerable to attacks. Therefore, you need to rely on secure communication protocols or even use a VPN connection to ensure that everything remains safe.
Establish Guidelines for Virtual Care
One of the main reasons so many healthcare professionals are concerned about providing virtual care is their lack of experience in this field. That's why they are unsure about what they can and cannot do and what kinds of risks they should be aware of. To improve their skill and confidence in managing virtual sessions, we recommend establishing clear guidelines and policies for virtual care.
The guidelines should define what exactly is expected from both sides: patients and healthcare professionals. They will help determine how patients should provide their data and what kind of information they should share during the sessions. They will also help healthcare professionals manage their time better and determine how much time should be spent on each patient.
Make Sure Your Staff Is Well Trained
While it is essential to keep yourself up to date, educating your colleagues is just as important. Even if you personally don't use virtual care, you most likely have colleagues who do.
For this reason, make sure your staff is well trained on how to interact with people outside of the clinic using the technology available. Your team needs to be aware of such issues as privacy concerns and data security, as well as how to handle specific situations like when a patient wants to talk about sensitive or private matters.
The more your staff understands virtual care, the more they will be able to help you in case you need them for consultation or asking questions. Also, making sure your staff is well trained will keep you and your patients safer and sounder in the long run.
Be Transparent
In order to provide the best possible service, it is crucial to be transparent. This means being completely honest with yourself and your patients about what virtual care is all about and the kind of risks it entails.
Make sure you let your patients know which services you can provide through virtual care and which ones you can't. For example, if you have a patient who has severe heart disease, it is essential to let them know that it might be better to postpone face-to-face consultation since a patient with a heart condition might not be able to travel far distances.
Also, if a service offered by virtual care requires extra payment from your part, make sure you explain this to the patient beforehand. For example, if a patient has been waiting for a while and you need to call in another specialist who works remotely for a consultation, make sure the patient knows about the extra fee for this service.
Not only will doing so allow you to prevent any misunderstandings with your patients, but it will also help you become more transparent about the whole issue of virtual care. This means you will be able to explain your actions and choices fully and clearly to your patients. As a result, you will be seen as a professional willing to go the extra mile to provide excellent service.
Conclusion
As long as there are patients in need of medical attention, virtual care will be necessary. However, the absence of eye-to-eye contact is a great challenge for healthcare professionals.
It is crucial to be aware of the risks that come with it. And while we do believe that virtual care is here to stay and that it will improve many people's lives, we also know that it takes a lot of effort and time to learn how to provide such service.
For this reason, we hope that this article was proven to be useful and help you manage the risks of virtual care and provide the best possible service to your patients.