Therapy - Patients at High Risk for Developing Heart failure (Stage A)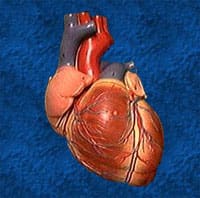 Overview of Stage A
Stage A
At high risk for HF (heart failure) but without structural heart disease or symptoms of HF
e.g., Patients with:
- hypertension
- atherosclerotic disease
- diabetes - obesity
- metabolic syndrome
or
Patients:
- using cardiotoxins
- with family history of cardiomyopathy.
Goals
- Treat hypertension
- Encourage smoking cessation
- Treat lipid disorders
- Encourage regular exercise
- Discourage alcohol intake, illicit drug use
- Control metabolic syndrome Drugs
Drugs
- ACEI or ARB in appropriate patients (discussed later) for vascular disease or diabetes.
Summary of therapy options - Stage A
Patients at High Risk for Developing HF (Stage A)
Many conditions or behaviors that are associated with an increased risk of structural heart disease can be identified before patients show any evidence of structural abnormalities. Because early modification of many of these factors can reduce the risk of HF, the recommendation of appropriate medical interventions to patients with these risk factors provides the earliest opportunity to reduce the impact of HF on public and individual health.
Recommendations
1. In patients at high risk for developing HF, systolic and diastolic hypertension should be controlled in accordance with contemporary guidelines. (Level of Evidence: A)
2. In patients at high risk for developing HF, lipid disorders should be treated in accordance with contemporary guidelines. (Level of Evidence: A)
3. For patients with diabetes mellitus (who are all at high risk for developing HF), blood sugar should be controlled in accordance with contemporary guidelines. (Level of Evidence: C)
4. Patients at high risk for developing HF should be counseled to avoid behaviors that may increase the risk of HF (e.g., smoking, excessive alcohol consumption, and illicit drug use). (Level of Evidence: C)
5. Ventricular rate should be controlled or sinus rhythm restored in patients with supraventricular tachyarrhythmias who are at high risk for developing HF. (Level of Evidence: B)
6. Thyroid disorders should be treated in accordance with contemporary guidelines in patients at high risk for developing HF. (Level of Evidence: C)
7. Healthcare providers should perform periodic evaluation for signs and symptoms of HF in patients at high risk for developing HF. (Level of Evidence: C)
8. In patients at high risk for developing HF who have known atherosclerotic vascular disease, healthcare providers should follow current guidelines for secondary prevention. (Level of Evidence: C)
9. Healthcare providers should perform a noninvasive evaluation of LV function (i.e., LVEF) in patients with a strong family history of cardiomyopathy or in those receiving cardiotoxic interventions. (Level of Evidence: C)
1. Angiotensin converting enzyme inhibitors can be useful to prevent HF in patients at high risk for developing HF who have a history of atherosclerotic vascular disease, diabetes mellitus, or hypertension with associated cardiovascular risk factors. (Level of Evidence: A)
2. Angiotensin II receptor blockers can be useful to prevent HF in patients at high risk for developing HF who have a history of atherosclerotic vascular disease, diabetes mellitus, or hypertension with associated cardiovascular risk factors. (Level of Evidence: C)
1. Routine use of nutritional supplements solely to prevent the development of structural heart disease should not be recommended for patients at high risk for developing HF. (Level of Evidence: C)
Reference
Direct quotes from this valuable reference:
Hunt SA, Abraham WT, Chin MH, Feldman AM, et al. ACC/AHA 2005 Guideline Update for the Diagnosis and Management of Chronic Heart Failure in the Adult: a report of the American College of Cardiology/American Heart Association Task Force on Practice Guidelines (Writing Committee to Update the 2001 Guidelines for the Evaluation and Management of Heart Failure): developed in collaboration with the American College of Chest Physicians and the International Society for Heart and Lung Transplantation: endorsed by the Heart Rhythm Society. Circulation. 2005 Sep 20;112(12):e154-235. Epub 2005.
Link: http://circ.ahajournals.org/cgi/content/full/112/12/e154