Adult Basic Life Support:
Images Copyright © American Heart Association 2015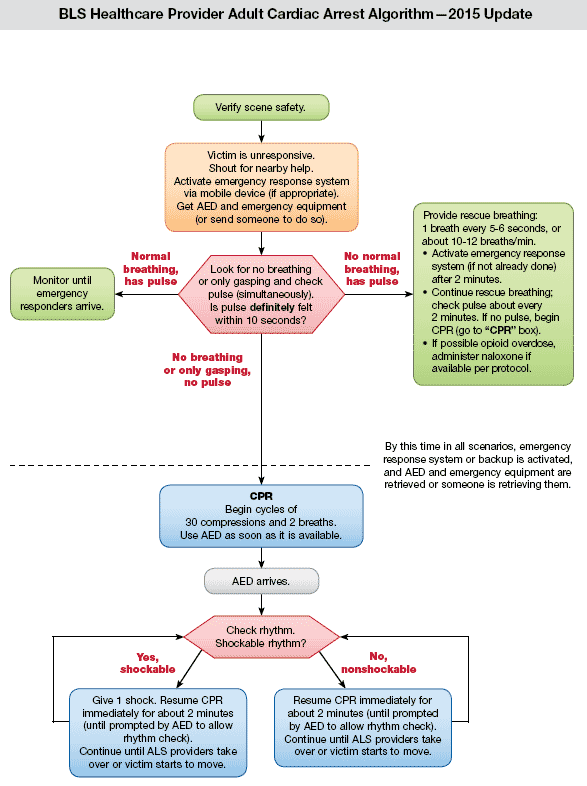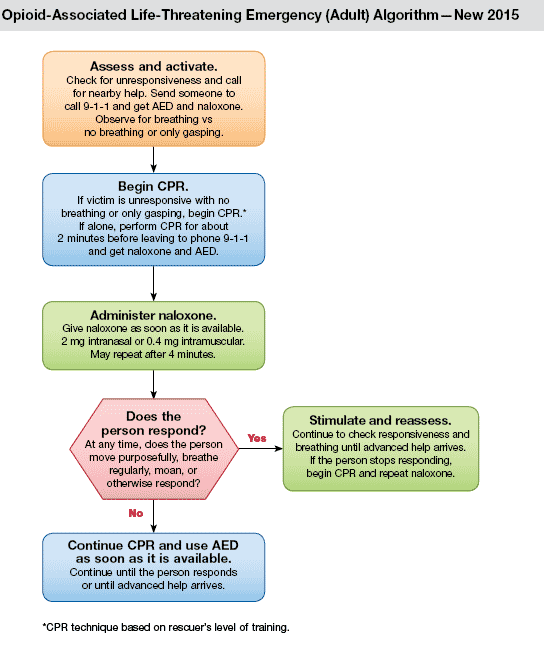 Part 5: Adult Basic Life Support: 2010 American Heart Association Guidelines for Cardiopulmonary Resuscitation and Emergency Cardiovascular Care.   Robert A. Berg, Robin Hemphill, Benjamin S. Abella, Tom P. Aufderheide, Diana M. Cave, Mary Fran Hazinski, E. Brooke Lerner, Thomas D. Rea, Michael R. Sayre, and Robert A. Swor.  Circulation. 2010;122:S685-S705, doi:10.1161/CIRCULATIONAHA.110.970939
Image Copyright
©
American Heart Association 2010 (previous guidelines)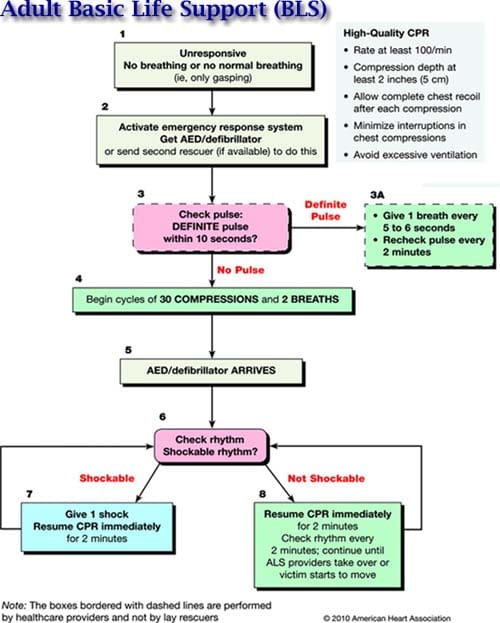 Guidelines 2021 are based on the International Liaison Committee on Resuscitation 2020 Consensus on Science and Treatment Recommendations for Basic Life Support and Automated External Defibrillation and the European Resuscitation Council Guidelines for Resuscitation (2021) Adult Basic Life Support. Refer to the ERC guidelines publications for supporting reference material.
Guidelines 2021 prioritises supporting members of our communities to have the confidence, knowledge and skills to act when someone sustains an out of hospital cardiac arrest. Few major changes have been introduced as the principles of CPR remain unchanged. The guidelines emphasise that it is more important that people feel able to do something to help than they become focused on small details or concerned about causing harm. No greater harm can occur than failing to act when someone requires CPR and defibrillation.
The community response to cardiac arrest remains critical to saving lives. Bystander cardiopulmonary resuscitation (CPR) and use of an automated external defibrillator (AED) increase the chances of survival by two to four-fold and are a critical part of UK government's strategies to improving survival from cardiac arrest.