GlobalRPh.com was officially launched in November of 2000 and is based on a
hospital-wide intranet that is located at the VA Medical Center in Detroit Michigan.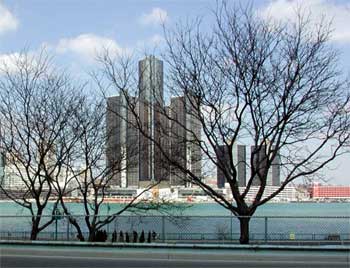 Image ©GlobalRPh, All rights reserved.   Detroit waterfront 
Mission Statement:
GlobalRPh was created with the vision of producing practical and user-friendly software and tools for the busy clinician. It all started with the development of intravenous dilution guidelines for several parenteral medications. Our goal has always been to spot inefficiencies that exist in a typical clinical practice, and then create innovative tools that help facilitate the overall process. Going forward, we plan to further expand on our extensive offerings including detailed disease-state management algorithms as well as multifaceted calculators that can perform several simultaneous functions.
Purpose:
This Service is intended to be used for informational purposes only and is not intended to be used for medical diagnosis or treatment or to substitute for a medical diagnosis and/or treatment rendered or prescribed by a physician or competent healthcare professional. GlobalRPH does not directly or indirectly practice medicine or provide medical services and therefore assumes no liability whatsoever of any kind for the information and data accessed through the Service or for any diagnosis or treatment made in reliance thereon.
Audience:
Our primary focus has always been the healthcare professional, however, based on the wide variety of our content,  the general public will find plenty of helpful content.
Use of the Site:
Except for information, products or services clearly identified as being supplied by GlobalRPh, GlobalRPh does not operate, control or endorse any information, products or services on the Internet in any way.
Copyright, Licenses and Idea Submissions:
The entire contents of the Site are protected by international copyright and trademark laws. The owner of the copyrights and trademarks are GlobalRPh, its affiliates or other third party licensors. YOU MAY NOT MODIFY, COPY, REPRODUCE, REPUBLISH, UPLOAD, POST, TRANSMIT, OR DISTRIBUTE, IN ANY MANNER, THE MATERIAL ON THE SITE, INCLUDING TEXT, GRAPHICS, CODE AND/OR SOFTWARE. You may print and download portions of material from the different areas of the Site solely for your own non-commercial use provided that you agree not to change or delete any copyright or proprietary notices from the materials.
Sincerely,
David McAuley, Pharm.D., R.Ph.