GlobalRPh – About Us
Background and Mission Statement:
GlobalRPh.com was founded in November 2000 and is based on a hospital intranet located at the VA Medical Center in Detroit, Michigan. The site's mission is to provide busy healthcare professionals with practical and user-friendly software and tools. The company began with the creation of intravenous dilution guidelines for parenteral medications and aims to identify inefficiencies in clinical practices and create innovative tools to address them. In the future, GlobalRPh plans to expand its offerings to include disease-state management algorithms and multifaceted calculators.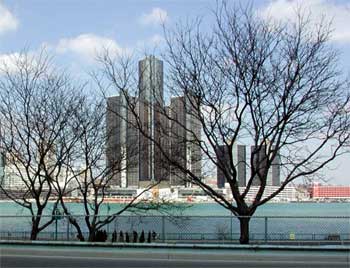 Image ©GlobalRPh, All rights reserved.   Detroit waterfront 
GlobalRPh has earned a strong reputation in the medical and clinical communities for its practical and user-friendly tools and software. Over the years, the site has become a trusted resource for healthcare professionals looking for innovative solutions to common problems in clinical practice.
One reason for GlobalRPh's success is the company's focus on identifying inefficiencies in clinical practices and creating tools to address these problems. For example, the site's intravenous dilution guidelines and disease-state management algorithms have proven to be invaluable to healthcare professionals who need to manage complex patients and make informed decisions quickly.
Finally, it's worth mentioning that GlobalRPh's user-friendly design and intuitive interface have also contributed to the company's reputation. The site's tools and software are designed to be easy to use, even for healthcare professionals who are not tech-savvy. This has made GlobalRPh a popular choice among busy healthcare professionals who need quick access to information and tools without having to navigate a complex or confusing interface.
Purpose:
This Service is intended to be used for informational purposes only and is not intended to be used for medical diagnosis or treatment or to substitute for a medical diagnosis and/or treatment rendered or prescribed by a physician or competent healthcare professional. GlobalRPH does not directly or indirectly practice medicine or provide medical services and therefore assumes no liability whatsoever of any kind for the information and data accessed through the Service or for any diagnosis or treatment made in reliance thereon.
Audience:
Our primary focus has always been the healthcare professional; however, the general public will find plenty of helpful content based on the wide variety of our content.
Use of the Site:
Except for information, products or services clearly identified as being supplied by GlobalRPh, GlobalRPh does not operate, control or endorse any information, products or services on the Internet in any way.
Copyright, Licenses and Idea Submissions:
The entire contents of the Site are protected by international copyright and trademark laws. The owner of the copyrights and trademarks are GlobalRPh, its affiliates or other third party licensors. YOU MAY NOT MODIFY, COPY, REPRODUCE, REPUBLISH, UPLOAD, POST, TRANSMIT, OR DISTRIBUTE, IN ANY MANNER, THE MATERIAL ON THE SITE, INCLUDING TEXT, GRAPHICS, CODE AND/OR SOFTWARE. You may print and download portions of material from the different areas of the Site solely for your own non-commercial use provided that you agree not to change or delete any copyright or proprietary notices from the materials.
Sincerely,
David McAuley, Pharm.D., R.Ph.